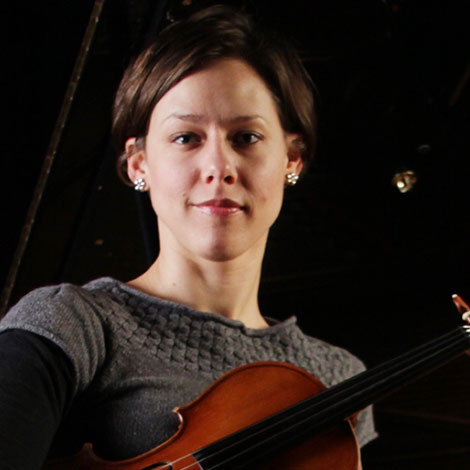 Joanna Steinhauser
Violin / Crescendo Fiddlers
Doctor of Musical Arts, Violin Performance, Louisiana State University
Master of Music, Violin Performance, Michigan State University
Bachelor of Arts in Music, Kalamazoo College
Dr. Joanna Steinhauser is a devoted violinist and educator residing in Kalamazoo, Michigan since 2010. A violin instructor at Crescendo Music Academy in Kalamazoo and The Citadel Music and Dance Center in Benton Harbor, Michigan, she teaches private violin lessons to approximately 45 students of all ages and levels. As Visiting Assistant Professor of Music she teaches a series of Aural Skills classes and several other private students at Kalamazoo College, as well sitting as Concertmaster in the college orchestra Kalamazoo Philharmonia. In addition, she regularly coaches violin sectionals for the Kalamazoo Junior Symphony and chamber music at Loy Norrix High School and Maple Street Middle School. In the summers she enjoys a week coaching chamber music at Blue Lake Chamber Music Camp for Fun, a festival tailored for chamber music enthusiasts of all ages and levels.
As a performer Dr. Steinhauser enjoys a variety of solo, chamber and orchestral playing. With the Steinhauser/Tung Duo she has performed recitals throughout Michigan, Missouri, West Virginia, Georgia, Spain and France. She is a founding member of The Laughing Waters Piano Quartet and thrives on collaborating and performing with friends and colleagues. Her extensive experience as an orchestral player includes, most notably, Acting Concertmaster at Battle Creek Symphony, Associate Principal Second Violin and Associate Concertmaster at Baton Rouge Symphony.
Dr. Steinhauser earned a D.M.A. (Violin Performance major, Music Theory minor) at Louisiana State University, M.M. (Violin Performance) at Michigan State University, and B.A. (Music and Spanish majors) at Kalamazoo College. She began her violin studies at the age of 5 with Dr. Ulrich Bauman, thereafter studied with Dr. Barry Ross, Renata Knific, Dmitry Berlinsky, Scott Flavin, Kevork Mardirossian and Espen Lillenslåtten. Listen and read more about Joanna at joannasteinhauser.com.