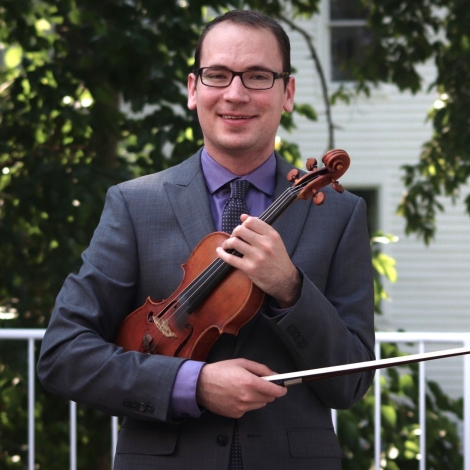 Timothy Cuffman
Violin / Viola /Vicksburg Strings
Timothy Cuffman is an active performer and teacher based in Kalamazoo, Michigan. He teaches violin and viola to students with a wide variety of backgrounds and goals. Cuffman's teaching experience ranges from being a teaching assistant at the University of Iowa and Ohio University to teaching at community music schools and non-profits. He has done extensive study in the Suzuki Method with trainers including Pat D'Ercole, Kirsten Marshall, Mark Mutter, Daniel Gee Cordova, Charles Krigbaum, and Thomas Wermouth. In addition, he has also studied the Rolland Method at the University of Illinois. Comfortable in teaching alternative styles, Timothy has a background in fiddle and has been a medalist in the Ohio State Fiddle Contest. As a presenter, he has been selected to speak at the American String Teachers Association National Conferences in 2021, 2020 and 2017, as well as the American Viola Society Festival in 2018. Timothy has presented masterclasses at Eastern Kentucky University, Bloomsburg University (PA), and Valley City State University (ND).
As an orchestral musician, Cuffman plays frequently with ensembles such as the Fort Wayne Philharmonic, Kalamazoo Symphony, Lansing Symphony, South Bend Symphony, and other groups throughout the Midwest. Previously, he served as Assistant Concertmaster of the Cheyenne Symphony for three seasons. Additionally, Timothy has been Concertmaster of the Longmont Symphony, Principal Second Violin of the Mansfield Symphony, and a member of the Fort Collins Symphony. He has performed with numerous other ensembles including the Colorado Symphony, Akron Symphony Orchestra, and Orchestra Iowa.
Dr. Cuffman earned the Doctor of Musical Arts degree in Violin Performance and Pedagogy with a Secondary Area in Viola from the University of Iowa in 2016. He also holds Master of Music degrees from Ohio University in Violin Performance and Upper String Pedagogy and a Bachelor of Music degree in Violin Performance from the University of Akron.