Henry Rensch Joins Crescendo Teaching Faculty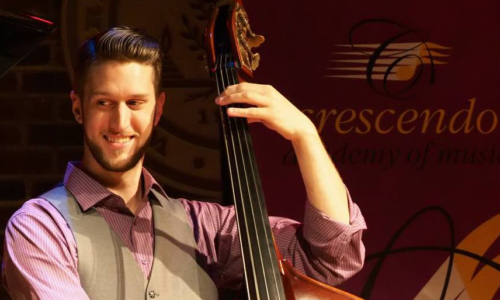 Henry Rensch has joined Crescendo as a bass instructor. Henry is a multi-instrumental performer, educator, composer, and engineer from Kalamazoo, MI, and has been working in the west Michigan area for over 10 years. Rensch received his Masters degree from Western Michigan University in 2017, and holds undergraduate degrees in both jazz studies and electrical engineering from the University of Michigan.
While at UofM, Rensch studied with world renown jazz bassist Robert Hurst. He also received instruction from eminent jazz veterans John Clayton, Christian McBride, and many more. At WMU, he served as graduate assistant, providing dedicated bass lessons to students ranging from undergraduate seniors to non-majors at the request of professor of both jazz and classical bass, Tom Knific. He also performed onstage with an incredible array of jazz legends including Rufus Reid, George Garzone, Terrell Stafford, Billy Hart, Jimmy Cobb, Peter Erskine, Chico Pinheiro, and Ed Simon.
An accomplished doubler on electric and double basses, Rensch is in demand in the Kalamazoo area, and has enjoyed being part of a wide variety of performances and recordings in jazz, folk, prog-rock, hip hop, avant-garde, funk, country, and numerous other genres. He has performed numerous times with American Idol finalist Matt Giraud, and has been the sole bassist for the local Dan Willenberg Trio, which performed weekly at Kalamzoo's The Union Cabaret and Grille for over 3 years. He is an alum of the award winning WMU-based Latin jazz ensemble, Mas Que Nada, and the Nashville-based piano rock trio We Know Jackson. Rensch co-founded the commercial music practicum ensemble Groove Lab, and is the host and bandleader for a new performance series at Rupert's Brewhouse. In addition to musical performance and education, Rensch is also a skilled audio engineer who has worked on numerous performances and productions, provided instruction in audio engineering, served as graduate assistant to the WMU Multimedia Arts Department, and enjoys building and repairing audio equipment in his spare time.