Now hiring Teaching Artists!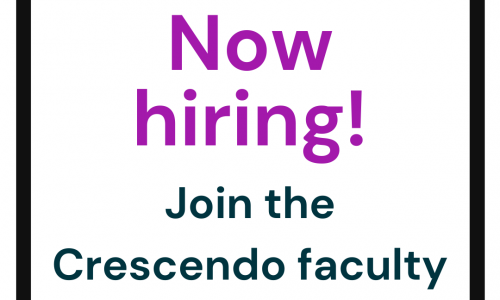 CRESCENDO ACADEMY OF MUSIC is adding Teaching Artists to our faculty.
Qualifications
College degree in music performance, music education, or equivalent experience required
Teaching and performance experience preferred
Effective communication skills
Effective interpersonal skills
Comfortable teaching students of all ages
Key Responsibilities
Provide studio and/or virtual lessons to assigned students
Provide group lessons as assigned
Individualize lessons to encourage student advancement
Assist in performance preparation and encourage student participation in performance opportunities; encourage student participation in master classes, chamber music, and recitals
Encourage student participation in performance organizations at school and competitive organizations in their local communities
Work cooperatively with other faculty at Crescendo
To apply, send a resume and references to information@crescendoacademy.com or Crescendo Academy of Music, 359 S. Kalamazoo Mall, Suite 12, Kalamazoo, MI 49007-4848.
Crescendo Academy of Music's mission is to provide individualized music instruction in a positive and supportive atmosphere to all persons regardless of age, ability, or income. Crescendo is a 501©3 nonprofit organization founded in 1988. We have a staff of over 30 Teaching Artists serving over 400 students in our on-site programs and over 500 students in our outreach programs. Students from infants to adults are participants in Crescendo programs. Complete details on all of our programs can be found at our website, crescendoacademy.com.