Statement on Systemic Racism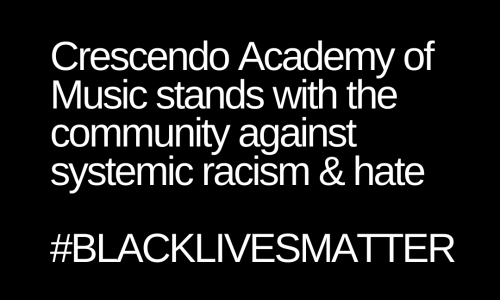 Crescendo Academy of Music stands with the community against systemic racism and hate faced by Black Americans. Our country is facing difficult times amidst an ongoing global pandemic and the recent rise in tensions in response to racial injustices and inequalities against the black community. We are continuing to commit to our core values of people, inclusion, community and quality. We at the Crescendo Academy of Music strive to teach a love and appreciation of music to everyone, not limited in any way by skin tone, ethnicity, sexual or gender identity, ability, or any other element that contributes to the amazing diversity of humanity.
At Crescendo, we will continuously assess how our organization can affirm this commitment to recognize and address biases and practices that prevent us from attaining our core values and mission. Going forward, we look to our community to give us guidance and feedback as to how we can be a more welcoming organization to every soul that may find themselves looking for a place to pursue their passion. Music is a universal language and a vessel to bring us all together. Music is a means of healing for all humankind.
You can find our complete mission statement and more about Crescendo Academy of Music at https://www.crescendoacademy.com/about/mission.