Support Crescendo Academy of Music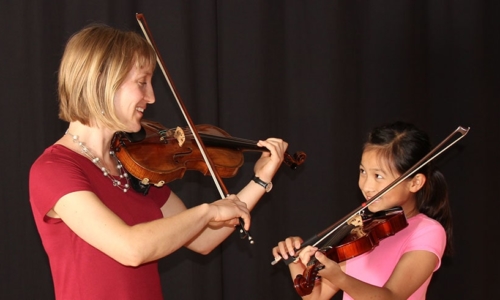 This year marks the 30th Anniversary of Crescendo Academy of Music; would you consider a gift to support us? Along with our celebrations we have reflected on our core values and all of the ways we bring music to people regardless of their age, ability or income.
People.  We nurture the growth of musicians: Crescendo's teaching artists, students, families, and audiences nurture talent, excitement, and musical spirit.
Inclusion.  We invite everyone to make music: We offer programs for ages zero to adult, adaptive lessons, group experiences for teens and adults with mental and physical challenges, and need-based financial assistance so everyone can participate.
Community.  We engage our community in musical experience: While you can find us in the lower level of the Epic Center downtown Kalamazoo, that is not where we stay. We are in the community every day teaching, performing, and enjoying music.
Quality.  Together, we elevate musical excellence: The expertise of our high quality teaching artists raises our students and their musical experiences to new heights.
Our values are what makes us a great community music school. They are as large as the goals and dreams our students have and that we have for them.  These dreams become possible through your gifts. In recent years we have been able to award over $25,000 annually in scholarships to students who would otherwise not have the opportunity to have music in their lives.
We value people, inclusion, community and quality; and we value you. Your generous gift and support will help us continue this valuable work. Thank you for your gift as we look ahead to the next 30 years and beyond.